Maxillofacial Foundation Award
Maxillofacial Foundation Award
The Maxillofacial Foundation Award is annually given to a maxillofacial prosthetic fellowship enrollee whose personal qualities and academic competence portend major leadership contributions to the specialty of maxillofacial prosthetics and the Academy. The Maxillofacial Foundation Award was formerly known as the Barron Award in remembrance of Dr. Joseph B. Barron, a past Academy president and Ackerman Award recipient. Maxillofacial Foundation Award Guidelines:
The candidate shall be or should have been a resident or fellow in an American Dental Association-approved maxillofacial prosthetic fellowship or its equivalent in the year of their selection.
The candidate shall demonstrate exceptional clinical, educational, and research acumen.
The candidate should be involved in the promotion of maxillofacial prosthetics at local, national, or international levels.
The candidate should have accomplished one or more of the following.
Received professional accolades or awards or be eligible for such honors.
Published articles, a thesis, or other worthy educational material.
Presented oral papers, abstracts, or scientific posters.
Lt Col (Dr.) Ketu P. Lincoln (Air Force) was awarded the Maxillofacial Foundation Award. This award is to recognize Maxillofacial Prosthetic Fellows who exemplify personal qualities and academic prowess with a potential to be major contributors to the specialty.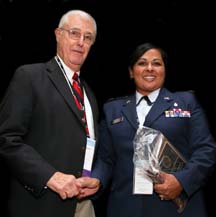 (Left to Right) Dr. Salvatore Esposito (President, Maxillofacial Foundation) and Dr. Ketu Lincoln (Awardee).